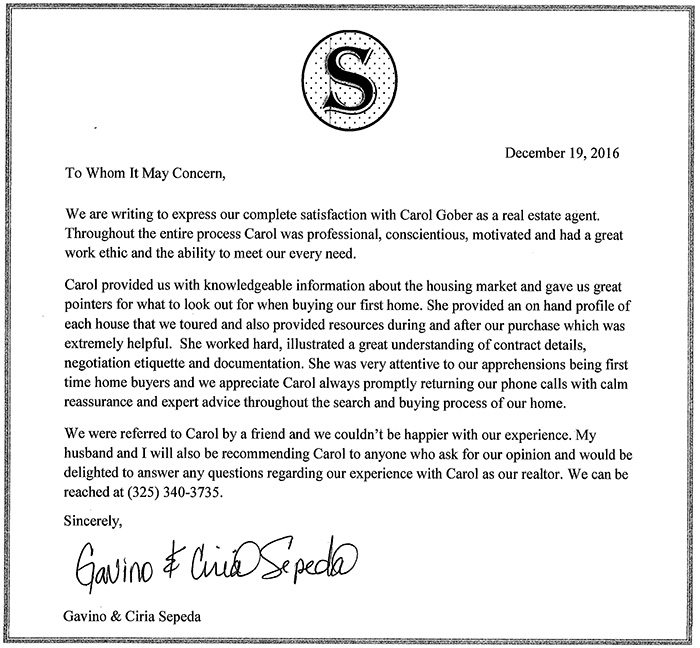 I want to thank you so much for the hard work and honest effort you put into the recent sale of my home on Mariner Terrace.
I have worked with and around sales professionals of all kinds for the past forty years, and never have I ever been associated with or known of one more professional than you. You went above and beyond all reasonable expectations in your effort to present my property in the most favorable light. Your advice and assistance in getting the property ready to be shown will never be forgotten.
The most important thing you did was to keep me positive when it was so easy to get negative. I really feel that you work harder to build good relationships with your clients than anyone can believe.
I would be more than happy to recommend you to anyone! Just send them to me.
Thank you so much for being there for me when I needed you, and for your friendship.
Bill Bird ~
San Angelo, Texas
---

I am writing to express our gratitude to you for going above and beyond in helping us find a home in San Angelo. The personal folders you prepared for us were incredibly helpful. I have never known any other Realtor to do that, and I have done business with many over the years.
You also met us at very short notice when I found a house I was interested in and showed us many more.
Your very professional assistance was a boon and resulted in us finding a suitable house in a very short time.
Thanks a million Carol!
Brenda & Don New
---
The Morton family would like to take this opportunity to recognize an outstanding realtor, Carol Gober, of Hanby Realty, and encourage your patronage toward her and the company she represents. In addition to her normal duties as a realtor, Carol always went the extra mile for us, which included driving 140 miles round trip in the middle of the night, just to get signatures. She did this while going through some personal stress of her of her own involving her grandson, all the while, making us feel as if we were the only people needing her assistance.
She became a very trust friend to us and our lives are better for having met her.
She is absolutely a "one-of-a-kind" person. We will use her again and encourage all that read this to do the same.
Thank you so much Carol and Hanby Realty!
Sincerely,
Marceene Glanton Morton
Duain Morton
R.C. Morton
---

Words can't even begin to descnbe how grateful we are to have Carol in our lives. Buying a home is a HUGE deal and Carol makes you feel like she is as invested in the buy as you are. The process of buying can be tough, but with Carol we genuinely felt like we were "a step ahead" the entire process. Carol is always on top of her game and what's so important to a buyer is that she continually keeps you informed on what is happening step by step. Her awesome sense of humor keeps the process light and makes everything soooo much less stressful. We thank Carol from the bottom of our hearts for being such an incredible realtor and an even better friend. If you are looking to buy, you would be at a sore disadvantage without the likes of Carol. Goooo with Gober! !!!!
Ben & Ashley Richey
---

I highly recommend the services of UPS Group Real Estate. We were recently relocating from San Angelo, TX to Midland, TX when I requested the services of this firm. I first spoke to Carol Gober from the San Angelo office, Carol very promptly got me in contact with her Broker, Margaret at the Midland office. I was completely satisfied. They do an excellent job and are always punctual. Any issues or questions I had were handled very professionally. All REALTORS in this firm go above and beyond what I have seen in the past.
Due to their professionalism and caring attitudes, not only did I buy my home in Midland through them, we have also listed our lake home with them in San Angelo.
Whether you are buying or selling in Midland or San Angelo, this is who to call.
Sincerely,
Pernecia K Marks